Newly Diagnosed with Leiomyosarcoma-Initial Steps
Navigating The Initial Diagnosis – Important  Considerations
First and foremost,  you must find a SARCOMA SPECIALIST,  preferably one who has treated many patients with Leiomyosarcoma.
Finding the Right Treatment Center – Surgeon and Oncologist for You:
Ask your primary care physician who he or she would recommend as a Medical and/or Surgical Oncologist (Sarcoma Specialist) familiar with the treatment of Leiomyosarcoma.  If they have no suggestions then refer to the list of Sarcoma Centers, all of which have experience in the treatment of  Leiomyosarcomas. Here is a map of all the centers as well.
Make sure to ask if the Oncologist and the Sarcoma Center you select accept your health insurance plan.
It is essential that you have a family member, friend, or caregiver accompany you to your appointments with the Oncologists.  They should take notes of what is said that can be reviewed by you after the appointment.
Have a medical appointment organizer notebook to help you keep all your important paperwork such as lab test results, radiology/imaging reports, pathology reports, current medications as well as the notes and questions you have written down in good order and ready for each appointment. Staying organized allows you to be better prepared for all your appointments.
Make sure that you write down the questions you want to ask the Surgeon or Oncologist and take them with you to your appointment. (To learn more, click "Questions to Ask Your Surgeon or Oncologist"
Dr. Seth Pollack, a leading medical oncologist and sarcoma specialist, encourages patients to find the doctors most equipped to treat their disease, one who will communicate with them and find the most effective treatment options for them.
SARCOMA CENTERS OF EXCELLENCE –  Listing and Map provided by Sarcoma Alliance Through Research Collaboration (SARC): 
Dr. Robert Maki, Physician Assistant Heather Hylton, and Nurse Practitioner Mee-Young Lee explain the roles of different members of an oncology care team, and how each contributes to the care of patients.
For more on a cancer team, click here. 
WHEN THE DOCTOR SAYS ITS CANCER
Second Opinion Guidance From The American Cancer Society-
CANCERLINQ Information Video for patients:
Just Updated! The Free Must-Have App For Patients And Caregivers From ASCO-The 
award-winning Cancer.Net mobile app
 is an interactive tool that helps patients keep track of questions to ask their health care team, save information about their prescriptions, track symptoms and side effects, and much more, no matter where they are. Spanish-enabled! Now featuring a new user interface and "My Health" Dashboard.
To learn more about how to be empowered to direct your cancer tissue sample to research projects, for the development of research models,
General Treatment Overview
Surgical Treatment Video Presentation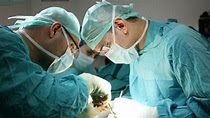 From Ben Miller, MD
University of Iowa Holden Comprehensive Cancer Center